Welcome to the exciting world of Texas horse racing betting! If you're new to this thrilling sport, you might be wondering where to begin. With so many races, horses, and betting options, it can be overwhelming to figure out where to start. But don't worry, we've got you covered.
In this guide, we'll walk you through the basics of Texas horse race betting and give you tips on how to make informed bets. From understanding the different types of bets to knowing how to read the odds, we'll provide you with everything you need to know to make your experience at the racetrack a success. So, grab a mint julep and let's get started!
Horse race betting is a part of Texas tradition, although its popularity has declined. Despite this, Texas tracks still operate and horse race betting is still available. Keep reading for the latest updates on Texas horse race betting.
When can we expect Online Horse Betting to be legalized in Texas?
Currently there is no legal online horse race betting in Texas. All betting on horse racing must be done in person at one of the three approved racetracks in the state. Horse racing enthusiasts in Texas can legally place bets on races at state-approved racetracks. This was made possible through a referendum measure approved by Texas voters in 1987.
However, it's important to note that laws and regulations can change, so it's always best to check for updates on the current status of online horse race betting in Texas. Currently, Texas has three operational racetracks where folks 21 years and older can lay down live race wagers. Furthermore, these venues offer simulcast betting for races occurring in other regions of the nation.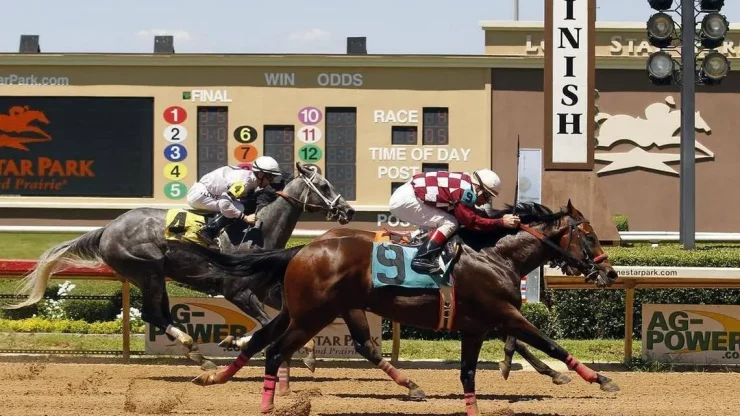 Understanding Horse Racing Odds
For those unacquainted with horse racing, comprehending the odds can be perplexing. Nonetheless, grasping how to read the odds is fundamental to placing well-informed bets. Here's a guide to help players understand horse racing odds.
Initially, the odds indicate the likelihood of a certain horse winning a race. For instance, if a horse has 3-1 odds, this means that the horse has a 25% chance of clinching the race.
Following this, there exist three odds formats – fractional, decimal, and moneyline. In the United States, fractional odds are the most widely used. Fractional odds are written with a hyphen, such as 3-1, and signify the amount of profit you can earn for each $1 you wager. Therefore, if you bet $1 on a horse with 3-1 odds and the horse wins, you'll receive $3 in profit, along with your original $1 bet back.
Decimal odds are commonly used in Europe and Australia. They represent the total payout, including the original bet. For instance, a horse with 3.00 odds implies that for every $1 you wager, you'll receive a total payout of $4, encompassing your initial bet.
Lastly, there are distinct types of bets you can place, each with diverse odds. Straight bets are the most straightforward, where you pick a horse to win, place, or show. Exotic bets are more intricate, where you bet on multiple horses or multiple races.
In conclusion, comprehending horse racing odds is pivotal to placing well-informed bets and optimizing your prospective profits.
Types of Horse Racing Bets in Texas
Texas horse racing may not be as flashy as other states, but the betting options are the same. It can be overwhelming to learn the different types of bets available for horse racing. The two primary categories of bets are single-horse or straight wagers and multiple-horse or exotic wagers. In straight wagers, you bet on a single horse's performance, and the common types include Win, Place, and Show bets. Win bets pay more than Place bets, and Place bets pay more than Show bets.
You can place multiple straight wagers on the same horse in the same race. Exotic wagers are for players who want to bet on how multiple horses will place in a race or multiple races. Exotic wagers are often complex and include Exacta, Quinella, Trifecta, Superfecta, Pick 3, Pick 4, etc.
The more horses you choose, the riskier the bet, and the higher the potential profit. Exotic wagers also offer several potential bet modifiers that can increase both the complexity and price of the bet. These modifiers include Box, Key, Wheel (field), and Partial wheel bets.
Some Flash Facts on Horse Racing Betting in Texas
Horse racing is an exciting sport that has been enjoyed for centuries. We'll explore some flash facts on horse racing betting for Texans.
Horse Race betting became legal in Texas in 1987.
The regulatory body overseeing horse racing in Texas is the Texas Racing Commission.
Individuals must be at least 18 years old to participate in pari-mutuel wagering at approved racetracks in Arlington, Houston, Fredericksburg and Selma.
Unfortunately, online betting on horse races is not currently available in Texas.
Popular race tracks in Texas include Lone Star Park in Grand Prairie, Sam Houston Race Park in Houston, and Retama Park in Selma.
Where Can You Place Pari-Mutuel Horse Racing Bets in Texas?
Texas is home to four venues where you can place pari-mutuel horse racing bets. Three of these facilities are located in major metropolitan areas, while the fourth is a fairground that stands as the only facility of its kind in the state. The Gillespie County Fair in Fredericksburg is known for its offering of pari-mutuel wagering on horse races that take place over four weekends in July and August every year. Lone Star Park in Grand Prairie caters to the Dallas-Fort Worth area and hosts two seasons of racing annually, one for Thoroughbreds and another for quarter horses.
Retama Park in Selma, a suburb within San Antonio, schedules only quarter horse race dates and offers a limited online horse race betting option. Finally, Sam Houston Race Park in Houston's northwestern area is the only Texas track offering race dates in January, and it operates both of its seasons back-to-back, providing almost continuous live racing between January and June each year for both Thoroughbreds and quarter horses.
Are There Any Other Places In Texas For Horse Racing Betting?
Apart from the four locations mentioned earlier, there are no other legal places in Texas for horse racing betting. Even though some other organizations or venues might host horse racing events, they don't have legal authorization to offer pari-mutuel wagering.
Therefore, it is vital for horse racing enthusiasts to be aware of the limited options available for betting on races and make sure they are placing their bets with authorized providers.
Betting at unauthorized locations might lead to legal trouble or loss of money, so it's always recommended to verify the legitimacy of the betting provider before placing any bets. Horse racing enthusiasts in Texas should thoroughly research their options and choose a reputable provider for a safe and enjoyable betting experience.
Are Other Race Tracks Likely To Open In Texas?
The future of horse racing in Texas is uncertain in terms of the opening of new racetracks. The state's gambling and horse racing laws are strict, making it challenging for new facilities to open. Moreover, the industry has been experiencing financial struggles, with declining attendance and revenue in recent years. Despite these challenges, existing facilities are making efforts to modernize and expand, such as the implementation of online betting options at Retama Park.
As the industry continues to adapt and evolve, new opportunities may arise for the development of additional racetracks in Texas. It is difficult to predict when or if this will happen, but horse racing enthusiasts can hope for the possibility of more options for betting on races in the future.
Are There Any Places for Off-Site Horse Racing Betting?
Yes, there are places for off-site horse racing betting in Texas. There are several online sports betting platforms in Texas available that allow residents to place bets on horse races happening across the country.
Additionally, some of the racetracks in Texas have off-site betting facilities where patrons can watch live races and place bets without being physically present at the track. For example, the Gillespie County Fairgrounds has a simulcast facility that operates year-round, allowing bettors to watch and bet on races from other tracks.
Retama Park also offers an online betting app called MBet, although it does require players to use Retama's internet to verify their location on the premises.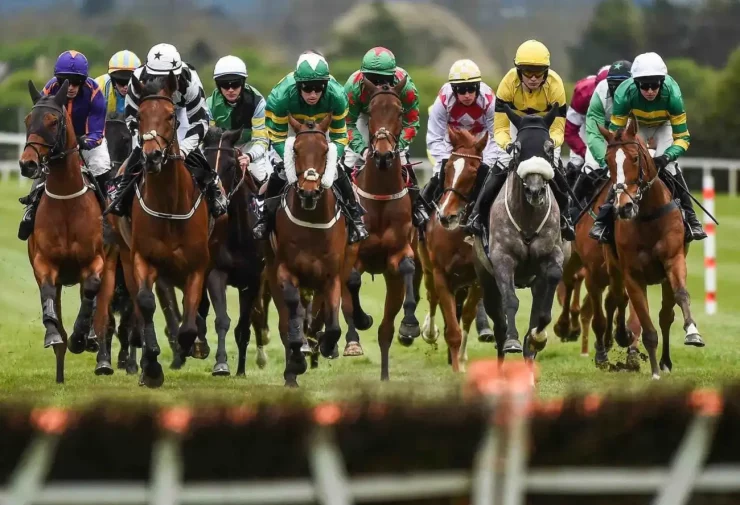 History of Horse Racing Betting in Texas
Texas has a noteworthy background with horse racing, a sport that dates back to the late 1800s, an era that encapsulates significant historical moments in the state. The first official race at Union Course in Houston back in 1866, ignited the spark that drove the sport's popularity. Horse racing in the early 1900s saw the establishment of various race tracks throughout the state, and this continued development birthed the Longacres Mile, which was an influential fixture that received great recognition in the country during the 1950s and 60s.
The industry had its share of tribulations in the late 20th century, which ranged from the escalation of competing gambling forms to a decrease in the public interest. Nevertheless, horse racing remained resilient in Texas with several facilities still in operation across the state. The Texas Classic Futurity, which takes place annually at Lone Star Park in Grand Prairie, is currently the most popular event on the Texas horse racing calendar, attracting top-tier horses and riders from all corners of the country.
Texas Horse Racing Betting FAQ
Is horse racing betting legal in Texas?
Can I place bets on horse races online in Texas?
What types of bets can I place on horse races in Texas?
Are there any race tracks in Texas where I can place bets on horse races?
Can I place bets on horse races at off-track betting facilities in Texas?
What is the minimum age to place bets on horse races in Texas?
How can I learn more about horse racing and betting in Texas?
Was this article helpful?